Khalil Gibran was Born Jubran Khalil Jubran on January 6, 1883 at Bsharri, Mount Lebanon Mutasarrifate, Ottoman Syria.  He died on April 10, 1931 (aged 48) in New York City, New York in the United States.
Occupation Poet, painter, writer, philosopher, theologian, visual artist
Nationality Lebanese and American
Notable works The Prophet, Broken Wings
Khalil Gibran (/dʒɪˈbrɑːn/); sometimes spelled Kahlil;was a Lebanese-American writer, poet, visual artist and Lebanese nationalist.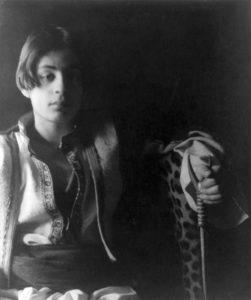 Gibran was born in the town of Bsharri in the Mount Lebanon Mutasarrifate, Ottoman Empire (modern-day Lebanon), to Khalil Gibran and Kamila Gibran (Rahmeh). As a young man Gibran emigrated with his family to the United States, where he studied art and began his literary career, writing in both English and Arabic. In the Arab world, Gibran is regarded as a literary and political rebel. His romantic style was at the heart of a renaissance in modern Arabic literature, especially prose poetry, breaking away from the classical school. In Lebanon, he is still celebrated as a literary hero.
A member of the New York Pen League, he is chiefly known in the English-speaking world for his 1923 book The Prophet, an early example of inspirational fiction including a series of philosophical essays written in poetic English prose. The book sold well despite a cool critical reception, gaining popularity in the 1930s and again especially in the 1960s counterculture.
Gibran is the third-best-selling poet of all time, behind Shakespeare and Laozi.
Works
In Arabic:
Nubthah fi Fan Al-Musiqa (Music, 1905)
Ara'is al-Muruj (Nymphs of the Valley, also translated as Spirit Brides and Brides of the Prairie, 1906)
Al-Arwah al-Mutamarrida (Rebellious Spirits, 1908)
Al-Ajniha al-Mutakassira (Broken Wings, 1912)
Dam'a wa Ibtisama (A Tear and A Smile, 1914)
Al-Mawakib (The Processions, 1919)
Al-'Awāsif (The Tempests, 1920)
Al-Bada'i' waal-Tara'if (The New and the Marvellous, 1923)
In English, before his death:
Illustration from The madman, his parables and poems
The Madman (1918) (transcriptions: wikisource)[31]
Twenty Drawings (1919)
The Forerunner (1920)
The Prophet, (1923)
Sand and Foam (1926)
Kingdom of the Imagination (1927)
Jesus, The Son of Man (1928)
The Earth Gods (1931)
Posthumous, in English:
Collections:
Prose Poems (1934)
Secrets of the Heart (1947)
A Treasury of Kahlil Gibran (1951)
A Self-Portrait (1959)
Thoughts and Meditations (1960)
A Second Treasury of Kahlil Gibran (1962)
Spiritual Sayings (1962)
Voice of the Master (1963)
Mirrors of the Soul (1965)
Between Night & Morn (1972)
A Third Treasury of Kahlil Gibran (1975)
The Storm (1994)
The Beloved (1994)
The Vision (1994)
Eye of the Prophet (1995)
The Treasured Writings of Kahlil Gibran(1995)
Other:
Beloved Prophet, The love letters of Khalil Gibran and Mary Haskell, and her private journal (1972, edited by Virginia Hilu)